It's natural for your kid's favorite pieces of clothing to get stained — the sign of a well-worn and loved garment! But depending on what the stain is, sometimes it can't be removed, and when that happens, over-dyeing is one of our absolute favorite solutions. It's also a great way to change the color of a piece for other reasons: like turning a pink hat into an blue one for a hand-me-down, or, when your kid's new favorite color is yellow but you only have a white sweater.
Minimizing waste and working with natural fibers and dyes is one of the best ways to combat the immense pollution caused by the fashion and fiber industry — a cause and subject very close to our hearts at M&P (to learn more about the effects of industrial dye and fast fashion, we highly recommend watching the documentary The True Cost on Netflix).
We spoke with Kathy Hattori, founder of Botanical Colors, a Washington-based company that provides artisans and the industry with materials and know-how to dye textiles in an eco-friendly way, using sustainable dyes derived from plants and natural resources. Kathy also hosts workshops & events, and provides tutorials and answers to dye questions on her website and blog. 
Kathy Hattori with harvested indigo leaves.
Stay tuned for a collaboration between Misha & Puff and Botanical Colors coming in June! We can't wait to share this with you. A small sneak peek: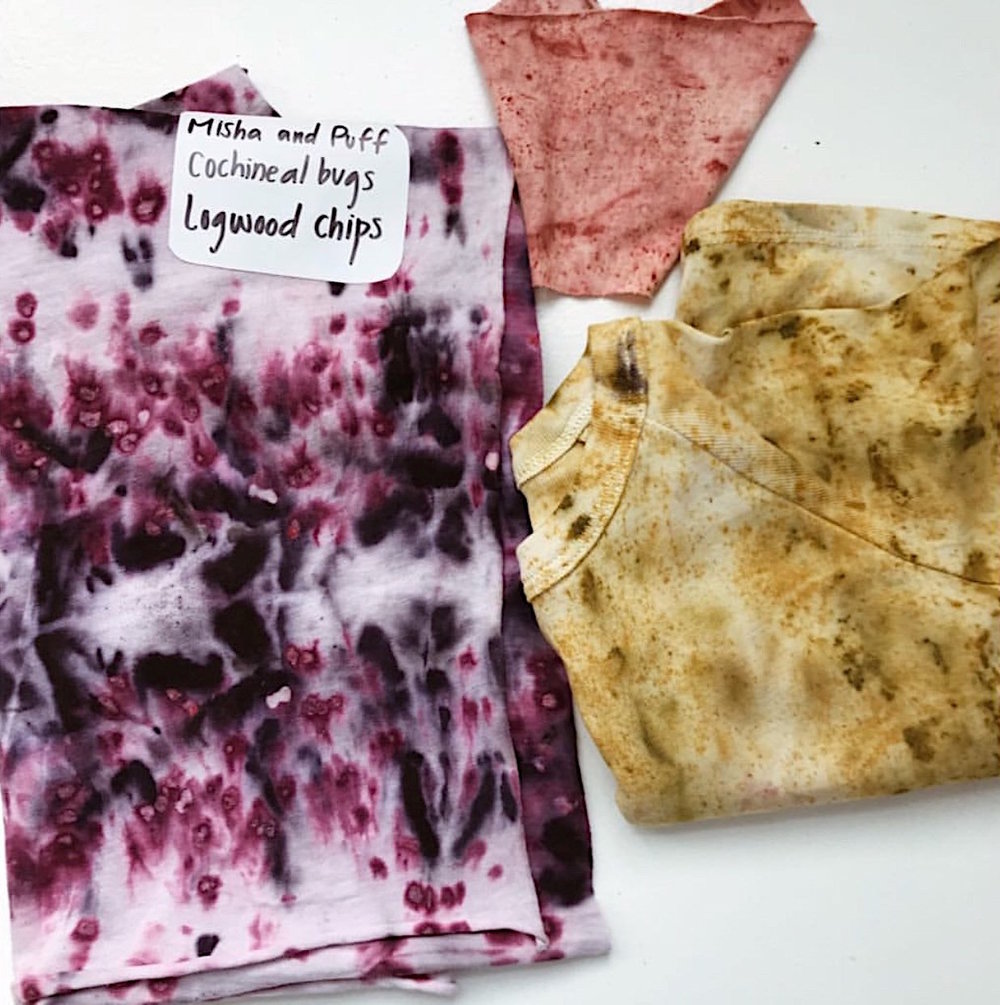 M&P: How can we extend the life of knit garments using natural dyes?
KH: Overdyeing a garment is a good way to update a color or minimize stain marks. Visible mending and patches are also great for pants with worn-out knees or other tears or holes. Snags and runs on knit garments can usually be minimized with a small crochet hook - just pull the snag through to the inside of the garment. If the knit garment has a small hole, it's easy to quickly mend it to prevent it from getting larger.
M&P: What are some great dyes for over-dyeing and covering things like stains?
KH: When unintentional patterning like stains happen, it's great to add random intentional patterning, like eco-dyeing, as the stain becomes part of the pattern. For more solid coverage, overdyeing with a darker shade like indigo or a darker shade will help cover most stains, and indigo is perfect for shibori patterning, which also draws the eye away from stains and surface imperfections.
M&P: Which how-to would you recommend checking out for that type of overdye activity? 
KH: This eco-dye scarf pdf
M&P: Favorite dyes for cottons vs. for wool? 
KH: Natural dyes work on all natural fibers. We like the vivid and deep shades of madder (orange and red), osage (bright gold) logwood (purple) and indigo (blue).

Look out for our collaboration with Botanical Colors, along with an in-person event in Boston this June!